Cardiology
clinic
Řevnice
About Us
Lubor Golan, MD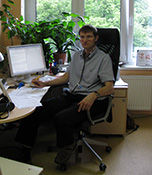 Lubor Golan, MD, graduated from the 1st School of Medicine at the Charles University in Prague. He did postgradual training in the 2nd Department of Internal Medicine of the General Faculty Hospital in Prague and passed board exam in internal medicine and nephrology. After his studies in the U.S.A. he passed board exams from cardiology and angiology.
During his stay in the U.S.A. he trained in internal medicine at the Dartmouth Hitchcock Medical Center (NH) and Veterans Administration Medical Center (VT) university hospitals, passed the US board exam in internal medicine and graduated from Dartmouth CECS (Center for Evaluative Clinical Sciences) with a Master of Science degree. He was licensed in New Hampshire and worked part time in several local hospitals during his stay in the U.S.

Bc. Lucie Ryvolová
Lucie Ryvolova, registered nurse, after graduating from Medical nursing school in Prague she continued her studies at college training where she got her bachelor's degree. She has experience from intensive care unit, hemodialysis unit and outpatient specialized care.